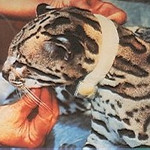 Ocelots once ranged from Mexico up into the southern states, including Texas, Arizona, Arkansas and Louisiana. Today there are an estimated 50 of these small cats remaining in the USA, including a breeding population found in South Texas on the Laguna Atascosa National Wildlife Refuge. While there have been several ocelot sightings in Arizona recently, all of them were wandering males and there is no evidence of their breeding in that state.
Phantom Cat of the Chaparral: Endangered Ocelot is a stunning 30 minute documentary that explains the critical work being done by land owners and biologists to save these cats. Released by the US Fish and Wildlife Southwest Region,  it provides rare footage and tells the important story of what is being done.
An important addition to education efforts for these endangered cats, we've added it as a permanent page in our Cat Conservation section.
Give yourself a short break, sit back and relax with the ocelots in Texas!