Wouldn't you love a gorgeous small wild cat gracing your wall every month? We have only a few of these remaining in stock so now would be a great time to order! Calendar is 8 1/2″ x 11″ when closed. (*8 1/2″ x 22″ when hanging).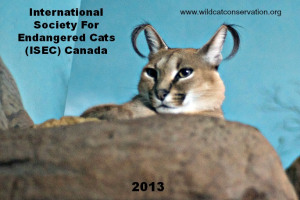 Thirteen gorgeous small wild cats are featured in this 2013 wall calendar, including photos taken in the wild and in zoos. There are some exceptionally rare photos in here this year! An ISEC Canada exclusive product.
$19.95 Cdn includes all shipping costs. Proceeds to Black-footed Cat Research.