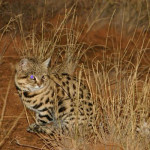 Since we started in 1990, ISEC Canada has sponsored a variety of field research projects on small wild cats, learning about the species' natural history.
Where are the cats located? What kind of habitat do they use? What do they eat? What are their activity patterns and social organizations? Without all these answers, it is impossible to design an effective conservation plan. Without knowing how large the population is, or their preferred habitat, suitable protected areas cannot be determined.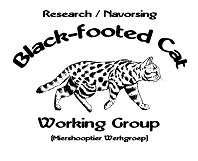 Ongoing Funding
The Black-footed Cat Working Group (BFCWG) is conserving this rare cat species by furthering awareness and conducting field research on the species' biology. This project is part of a multidisciplinary effort to study their distribution, ecology, health, and reproduction over an extended period. See Black-footed Cat Project for details.
Sand Cats in the Moroccan Sahara is part of a multi-species project studying small carnivores in the Sahara Desert of Morocco, with the project emphasis on sand cats.  Started in 2015, researchers are planning a long-term study to see how sand cats, African wildcats, fennec foxes and Ruppells' foxes co-exist, and gather information on the distribution, ecology and health of this sand cat population.
Small Cat Action Fund
In 2012, ISEC Canada formed a partnership with the Small Cat Action Fund of Panthera. Funds raised by ISEC are now equally matched by Panthera, and go towards funding field research projects on small wild cats.
Projects Funded
Conservation of a newly recorded population of fishing cat (Prionailurus viverrinus) at a protected coastal mangrove area in south-west Cambodia. Vanessa Herranz Muñoz
Evaluating the movement, interaction and adaptation to a big disturbance of three small spotted cats in a critical biological corridor in Costa Rica. Roberto Salom-Perez
Sand Cat (Felis margarita) in Kyzylkum Desert (South Kazakhstan). To assess Sand Cat current status, understand threats, and outline conservation plans. Georgiy Shakula
Assessing the population status, ecology and conservation of caracal in the selected protected area of semi-arid habitat region of Rajasthan, India. Randeep Singh
Compared ecology of three species of Neotropical cats (Leopardus tigrinus, L. geoffroyi and L. colocolo) in southern Brazil. Flavia Pereira Tirelli
Searching for gold: are African golden cats persisting in Ghana? Nyeema Harris
Effects of forest conversion, fragmentation and hunting on the status of Bornean Felids: Bay Cat, Flat-headed Cat, Marbled Cat. Anthony Giordano & Jedediah Brodie
Ecology and conservation of the African golden cat in Uganda. David Mills
Community based conservation of Himalayan lynx in Chitral, Pakistan. Jaffar Ud Din
The relationship of toxicant exposure, genetic diversity and habitat fragmentation to disease susceptibility in Bobcats. Lauren Klein Serieys
Halting retaliatory killing of a unique population of the most endangered felid of the Americas, the Andean Cat of Pategonia. Andres Novaro
Population status of a poorly known small cat guild in the Argentine Espinal, Mauro Lucherini
Conservation biology of the African golden cat: an assessment of habitat requirements, intra-guild competition and the impacts of human disturbance. Laila Bahaa-el-din
Maximizing the contribution of carbon finance mechanisms to delivery biodiversity benefits to conservation. Ewan McDonald
The Caracal Project – An innovative field study in South Africa that is proving caracals do not prefer domestic animals if their natural prey species are available
Wild Cats of Brazil – a large scale multidisciplinary effort to study Brazilian felids.
Spatial Ecology and Conservation of Felids – a long-term field study on the ecology of several rare and endangered cats in Thailand.
Malaysia Carnivore Project – An international scientific team dedicated to the conservation of Asian carnivore species.
The Global Cheetah Project – an ambitious count of cheetah populations and status throughout its African range.
The Clouded Leopard Project – An initial survey in the Indian states of Mizoram and Sikkim to access the occurrence and status of the clouded leopard.
The Alberta Cougar Project – this project was the longest running study of the cougar in North America, with data collected in the mountains of south western Alberta
The East Kootenay Lynx Project – regional distribution, abundance and habitat association, spatial organization, dispersal and movement patterns of the lynx in the East Kootenay region of British Columbia