Small Wild Cat Conservation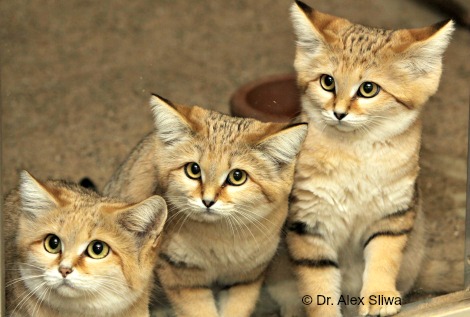 The wild cat family contains 37 species and 75% of them weigh less than 50 lbs. Like the Sand Cats shown here, many are about the size of a domestic cat, and the smallest weigh just 2 lbs as an adult. Studying small nocturnal animals is difficult, and there is much to be learned about these small felines. But field research studies change that.
Over the last two decades, we have supported numerous small cat field studies. With the generous support of cat friends around the world, we continue to fund this critical work. Your donations help researchers in various countries purchase radio collars, trail cameras and other equipment needed to study small wild cats in their native habitat.
100% of donations received go directly to small wild cat conservation programs
Sand Cats of Morocco – the first field study on these small cats in the Moroccan Sahara. Help researchers learn what these cats need to survive, and set up conservation plans.
Black-footed Cat Project – one of the longest running field studies in the world, the population of these tiny South African cats is declining. Help researchers turn the trend around.
Feline Facts – get all the latest information on all 37 wild cat species on our feline fact sheets, which are updated on a regular basis.
Join our free monthly Wild Cat News and get a variety of articles on wild cats in your inbox. No other emails sent!