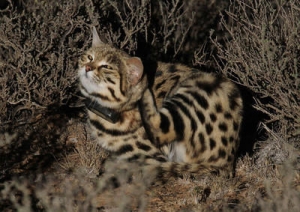 What is a Black-footed Cat?
Black-footed cats are no bigger than your house cat, and probably smaller in most cases. They are only found in three countries: Botswana, Namibia and South Africa. They inhabit short to medium length grass plains, scrub desert and sand plains, including the Kalahari and Karoo Deserts.
An incredibly tenacious little cat, the natives have a legend claiming these tiny cats can bring down a giraffe. While this is untrue, it pays homage to the determination of these feisty little felines.
Researchers often record interactions between black-footed cats and other animals in their habitat. Their attitude proves that while they may be small, they don't let their size stop them!
"The male Kubu was located resting in a hollow termite mound. When he became active, he sprayed several times, then caught a gerbil. He continued to forage and as a group of bat-eared foxes three times the size of the cat approached, Kubu sat and watched them. When one of the foxes came too close, Kubu slapped him and just walked on."
Or how about this determined kitty:
"I was following one of the black-footed cats when I drove past a blue crane nest I had been checking the past week. This time when I shone my spotlight on the big birds, I noticed the bright blue eyes of the male black-footed cat next to the nest. I watched as he sniffed the nesting female's head and neck, then tried to push underneath her to get to the chicks in the nest."
What is known today about the home range, behaviour and diet of the Black-footed Cat has been found during this field study in South Africa. The study area is situated close to the famous diamond city of Kimberley, and ISEC Canada has been supporting this work since the project began.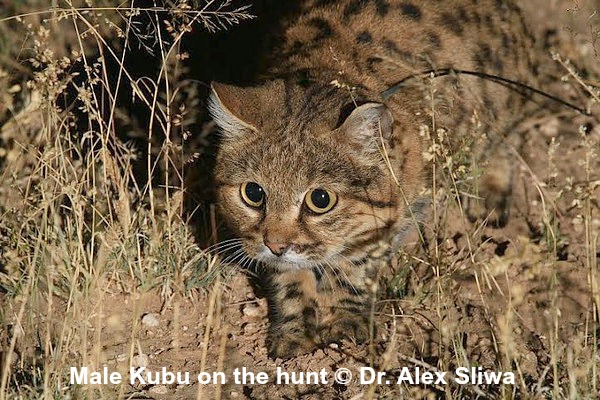 How Do You Learn About A Tiny Wild Cat?
Dr. Alex Sliwa captured his first Black-footed Cat in December 1992. He got closer and closer to the cats each night, eventually observing them from 15-30 metres away. After several weeks of habituating individual cats to the sound of the truck and the shine of the low powered spotlight (always held behind them) he could follow them for most of their nocturnal activity periods. He has returned to the study area in subsequent years to track and study the cats, utilizing three capture methods:
Spot lamp searching – A 4×4 vehicle drives along dirt roads at a speed of 20 km/hr while looking for the bright eye shine of cats. Usually two people stand on the open back of the vehicle, operating two spot lamps.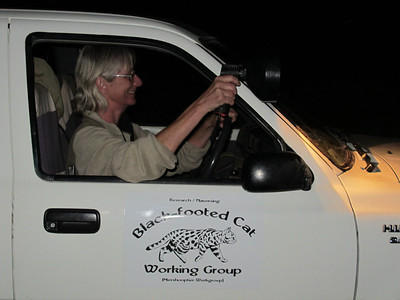 Netting – Once black-footed cats are located with spot lamps, their species identification is confirmed with binoculars. If positively identified, they are pursued by the vehicle for a short distance between 100-600 m, which results in the cat squatting low to the ground in front of the stopped vehicle. One or two people with fish landing nets get off the vehicle and net the cats. On other occasions, the cats find a den system and are either captured by exposing them after digging or lost to the capture team by escaping deep into the den system.
Live trapping – Two types of live traps are used, and the doors close when the cat pulls on the baited hook. Bait is either small dead birds or small pieces of larger birds, which are freshly defrosted before being put onto the triggering mechanism of the traps. For lure, shredded pilchards, sardines in oil, cod liver oil and urine from oestral domestic cats is used. These are smeared on the outside structure of the trap, or sprinkled inside. Each trap is serviced twice a day. In the evening, traps are set and baited during the last three hours of daylight. Bait that was not taken is replaced every second day. All traps are checked during the first two hours after sunrise and those not yet triggered are closed for the daylight hours.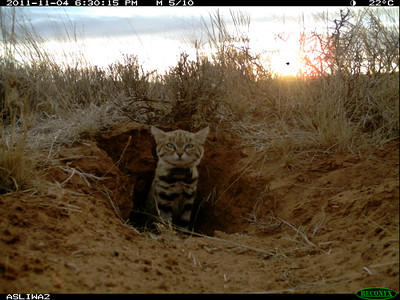 Captured cats are anesthetized with an intramuscular injection and covered with a blanket to shield them from lights and sounds. Upon immobilization all cats are measured, weighed, examined for general body condition, parasites, and when possible 2.0 ml of blood is drawn. After fitting a small radio collar (45-60 g), the cats are then placed in a small plastic crate for recovery.
All captured cats are released back into a den close to their capture location. A blanket is used to cover the den entrance, keeping them inside until they are fit to leave on their own.
Their Population is Decreasing
In addition to natural threats like black-backed jackals, caracals and eagle owls, these cats are increasingly being challenged by human changes to their habitat.
The average black-footed cat eats about 3,000 rodents each year. This should earn them the title of Farmer's Friend, but they face many man-made threats:
-Poisoning of carcasses to kill larger carnivores, which the black-footed cats scavenge
-Overgrazing by livestock, which reduces their prey base
-Poisoning of locusts, which are eaten by the cats in huge numbers
-Killing by domestic dogs, which are used to chase or dig out jackals
With their population rapidly declining, this field project is vitally important so we can learn how to reverse this trend.
See also
Black-footed Cat Hunting & Diet
Black-footed Cat Research Findings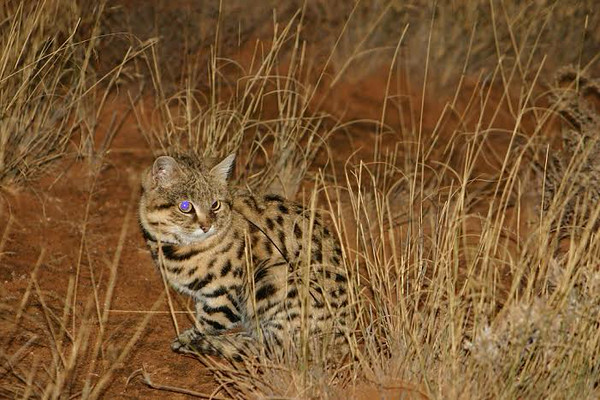 ISEC Canada has been recognized as the longest running supporter of this project. 100% of donations received go directly to the cats. Donors receive updates from the field in the form of an online newsletter, available only to project supporters. Won't you join our growing team of small wild cat fans and help the Black-footed Cats?