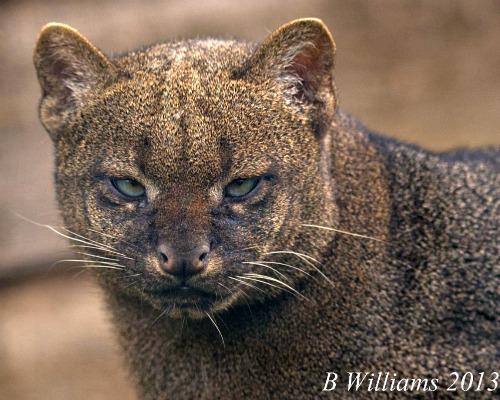 HB Length: 53-76 cm (21-30″)
Tail Length: 31-52 cm (12-20″)
Height: 25-30 cm (10-14″)
Weight: 3-7 kg (6.6-15 lbs)
Pop. Trend: Decreasing
Jaguarundi Puma yaguarondi are one of the strangest looking of the small cats, with slender, elongated bodies, small flattened heads, and long tails more reminiscent of an otter than a cat. The short, smooth, unmarked coat shows three distinct colour phases: black, brownish grey, and a reddish brown phase known as the Eyra. The ears are short and rounded, and this is one of the few cat species not to have a contrasting colour on the backs of the ears. Their eyes are small, set closely together, and are light amber or brownish in colour. The legs are short and slender, and the tail is long and tapered.
These cats are not closely related to the other small South American cats. Genetic analysis has grouped them more closely to the Cougar Puma concolor. Their ancestors probably evolved in Eurasia and migrated to the  Americas via the Bering land bridge about 16,000 thousand years ago.
Distribution
A cat of the lowlands not generally found above 2,000 metres, Jaguarundi range from northern Mexico through Central America down to central Argentina.
These cats occupy a broad range of both open and closed habitats from grasslands, dry scrub, swamp and savannah woodland to primary forest. Access to dense ground cover seems to determine habitat suitability for these cats, and their low, slender bodies allow them to easily slip through this vegetation. They have been reported to prefer forest edges and secondary bush, but this may simply be where they are most frequently seen.
A radio telemetry study in Belize found the home ranges of these cats to be huge. Territories varied considerably between males and females, measuring 88 – 100 km2 for each of two adult males and 13 – 20 km2 for an adult female. The ranges of the males overlapped less than 5%. Both sexes used different and widely spaced portions of their ranges for irregular periods of time, rather than making regular boundary patrols.
By comparison, a study in Mexico found home ranges of 9.6 km2 for males and 8.9 km2 for females, with extensive overlapping between all genders. The higher number of cats in this area results in smaller home range sizes and more overlapping territories.
The Mexico study also found that radio-collared Jaguarundi used mature forest 53% of the time, and pasture and grassland 47%. Jaguarundi are thought to exist in very low densities in Brazil with 1-5 cats per 100 km2, but in Mexico the population is estimated at 20 cats per 100 km2.
Ecology
More active during daylight hours than other small wild cats, Jaguarundi are the most observed small cat in South America for that reason. They have frequently been observed travelling and foraging in pairs. Peak activity times are late morning and late afternoon. The study in Belize found only 15% of their activity was after sunset.
They are thought to hunt mainly on the ground and have a varied diet with rodents being the main prey species. Other foods include birds, reptiles and even fallen fruit. Their body shape would suggest terrestrial habits, but Jaguarundi have been observed seeking refuge in trees, often moving from branch to branch.
Reproduction
Adult Jaguarundi show a wide vocal repertoire, as compared to adults of other species, with 13 distinctive calls. Females are thought to be polyestrous year round in most of their range but peak mating season is late fall in the northern part of their range. Den sites include dense thickets, fallen logs overgrown with vegetation, hollow trees, and thick grassy clumps. One to four, usually two, kittens are born after an average gestation period of 70 days. The kittens are born spotted but the markings soon disappear. They begin to eat solid food at about six weeks of age. Sexual maturity is reached between 24 and 36 months. Individuals have lived up to 15 years of age.
Conservation
Although actual population numbers are unknown, their large range and lack of threat from the illegal fur trade means that Jaguarundi are classified as Least Concern by the IUCN. The danger in this designation is the assumption that the population is healthy, resulting in few or no field studies to determine their  actual status.
Although actual population numbers are unknown, their habit of killing domestic poultry has not endeared the Jaguarundi to farmers, and they are subject to hunting pressure around settled areas. Their fur has never been in demand for the fur trade because of its poor quality and lack of spotting, although they are undoubtedly caught in traps set for other species. Habitat destruction and human encroachment are the main threats to their existence.
These cats are said to have been kept as pets by early Central American natives (before the Spanish conquistadors came) to control the rodent populations around villages and crops.
What animal looks like a Jaguarundi but is not even a member of the cat family?
Map courtesy IUCN Red List 2008
Updated 2016