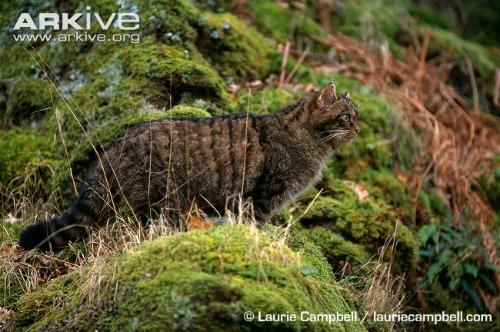 Evidence suggests that the present Scottish Wildcat is the descendant of continental European ancestors that were isolated in Britain after the last ice age. By 1800, their distribution was already restricted to northern England, Wales and Scotland. With the rise of large sporting estates, particularly in Scotland from the mid-nineteenth century, gamekeepers were charged with eliminating all carnivores. By 1915 the wildcat was restricted to the north-west of the Scottish Highlands. Their persecution declined during World War 1 when gamekeepers were at war, and wildcat numbers rapidly increased.
Today, the small number of wildcats that survived persecution are now heavily outnumbered by human introduced feral domestic cats. The two species are closely related and readily mate, causing the wildcat genes to slowly water down and disappear into the huge domestic gene pool.
The conservation of the Scottish Wildcat has become an incredibly confusing morass of players, percentages and political aspects.
Wildcat Haven Releases Wildcat Conservation Action Plan
July 2014 – A 250-square-mile haven has been established to save the Scottish wildcat from threatened extinction.
The west coast sanctuary is being cleared of feral domestic cats that pose a threat by interbreeding with their endangered cousins. Wildcats are threatened by hybridising with domestic cats, with one study suggesting there could just 35 left in the wild.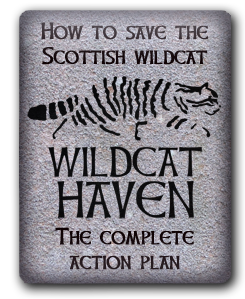 The Wildcat Haven occupies the Ardnamurchan and Sunart peninsula on the west coast, and has been the site of assiduous work over the last five years to trap, neuter and release feral cats and ensure pet cats are neutered. The team behind it hope that wildcats may now be able to thrive in the area secure from the further threat of hybridisation.
The project scientific adviser, Dr Paul O'Donoghue, of the University of Chester, said: "Cats of any kind are notoriously difficult to survey. However over the last six months we've really saturated the area with live traps, cameras, vets and ecologists, and had lots of people from the local community out looking as well.
"The only feral cats seen have already been neutered, which means the population should collapse naturally within the next couple of years."
This is thought to be the first time feral cats have been managed in such a large mainland area anywhere in the world.
Camera trap footage, using remote motion-sensor cameras, suggests that Ardnamurchan's wildcats, which could number fewer than 10, might be genetically pure.
The animals will be trapped and DNA tested to establish whether this is the case. If they are, they will be left to thrive and simply monitored, in the hope and expectation that their population will grow. Keeping the cats where they are and protecting them in their own environment is the ideal scenario.
But if the population turns out to be made up of hybrids then discussions will be held with with other agencies about the best way forward. As a last resort, wildcats could be brought to Ardnamurchan from areas of Scotland where Dr O'Donoghue believes they are "doomed", such as the Cairngorms, or from captivity.
Dr O'Donoghue said: "Our goal is to establish populations of genetically-pure wildcats. We are determined not to settle for second best or to settle for a bunch of tabbies that bear a resemblance to wildcats. Protecting anything less than the pure Scottish wildcat will condemn the species to extinction. The behaviour of feral cats and pure wildcats is very different. Scotland's ecology needs the true wildcat and, outside of a wildlife park enclosure, this is the only place in the UK where they are safe from hybridisation."
Steve Piper, Scottish Wildcat Association/Wildcat Haven
Sept 2013 – "The critical area of argument is in terms of the definition of a wildcat. Wildcat Haven, geneticist Paul O'Donague and the Aspinall Foundation are defining wildcats using Paul's genetics test and will seek to conserve the best possible wildcat they can given what is found on the ground. If there are enough 100% pure cats they will be conserved and nothing else. If there aren't enough pure then they'll go for 99% pure, then 98%, then 97% etc. This is desirable and intelligent and what conservation is supposed to be. Whilst no one has been seeing 100% cats we've all seen cats and camera trap photos of plenty of animals that fall into the 90s and 80s, mostly in the West Highlands.
The Scottish National Heritage (SNH) action plan is starting out with the intention of using what is called the "relaxed pelage criteria",which was developed as a tool for someone like a gamekeeper to use to ensure he didn't accidentally shoot a wildcat. It has a large margin of error attached which very roughly equates to anything looking 66% wildcat = a wildcat. It was never meant to be used as the basis for conserving the species. So the SNH action plan is seeking to conserve anything better than 66%, though they may recommend a stricter criteria for their captive breeding.
My problem with this approach is that given a bunch of generations all the wildcats will hybridise to the lowest common denominator and all those 100%, 99%, 98% etc. cats will be lost to us. Any higher purity cats bred in captivity then released will inevitably have to breed with 66% cats in the wild and that purity will also be lost, making it entirely pointless having higher standards for the captive breeding. It is a policy that guarantees the extinction of the pure and near-pure wildcat.
What 66% means is that overnight we have thousands of wildcats where yesterday we had extremely few – whoever's figures you believe; 35, 100, 400, all those numbers are extremely low."
The Aspinall Foundation Sets Up Island Sanctuary To Prevent Imminent Extinction Of The Scottish Wildcat
Sept 2013 – The Aspinall Foundation (TAF) today announces a unique initiative to save the Scottish wildcat which has become one of the most critically endangered species in the world due to mass cross- breeding with feral domestic cats.
TAF will lead a team of conservationists to establish a custom built wildcat breeding centre at the remote island of Carna off the west coast of Scotland. The centre will provide a vital sanctuary where pure Scottish wildcats – who are now believed to number no more than 35 in the wild – can breed in safety before being reintroduced into their natural habitats.
Neville Buck, studbook keeper for the Scottish wildcat said, "I am unaware of any facilities in Scotland that are suitable to deliver this project. It is essential that we move ahead now to provide this breeding sanctuary".
TAF's breeding centre is a key part of a large scale wildcat conservation project on Scotland's West Coast. Thousands of feral cats on the coast's peninsulas are to be trapped and neutered to create large mainland areas clear of the threat of hybridisation. This will mean that the pure wildcats bred at the TAF centre can be released safely into the wild without the risk of cross breeding again.
Dr Paul O'Donoghue, who holds the only trapping license for wildcats and has developed the genetic test and is working closely with The Aspinall Foundation, said: "The West Coast holds the only short term chance for a realistic conservation effort. The geography means that wildcat havens can be set up where the species can be protected from hybridisation.
"It is optimistic to think that areas such as the Cairngorms, surrounded on all sides by human habitation, can act as sanctuaries as it would be impossible to stop the relentless flow of feral cats into the areas. It would take a draconian move by the government to ban cat ownership in such areas and that's just not realistic."
To further its immediate action, TAF is also asking landowners on the west coast of Scotland if they would be prepared to provide land that could be used for wildcat conservation. It is anticipated that this first breeding centre will only be the start of this ambitious project to establish the west coast of Scotland as an effective stronghold for the wildcat.
Back to the main Felis silvestris page.