Phantom Cat of the Chaparral: Endangered Ocelot
This 30 minute documentary highlights the important research and partnerships in place to ensure the recovery of the endangered ocelot. Biologists and landowners talk about tracking the cats, protecting and restoring ocelot habitat, the importance of partnerships, and what the public can do to help in the recovery of the species. The range of this small wild cat once extended from Mexico up into the southern states, including Texas, Arizona, Arkansas and Louisiana. Today there are an estimated 50 ocelots that remain in the United States, including a breeding population found in South Texas on the Laguna Atascosa National Wildlife Refuge.
This documentary is an especially important tool for educators looking for materials that emphasize biology and endangered species. For all other viewers, it provides rare footage of ocelots and tells the important story of what is being done on behalf of America's little leopard.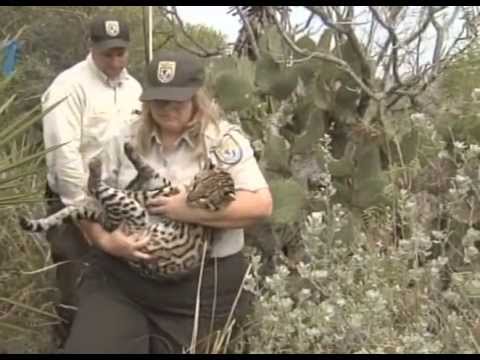 Thank you to the US F&W Service Southwest Region for sharing this beautiful film!
From the Friends of Laguna Atascosa National Wildlife Refuge website: 
The U.S. Fish and Wildlife Service (FWS) is asking for the public's assistance in the recovery of the ocelot, a highly endangered wild cat found in deep South Texas. FWS is the lead agency responsible for the recovery of this species and works with many partners, public and private, to ensure this beautiful cat will grace the Texas landscape for generations to come.
What to do if you do see a live ocelot, jaguarundi, cougar or jaguar
Please Contact: Laguna Atascosa National Wildlife Refuge: (956)748-3607 ext 111. Staff will ask for the date, time, detailed location and any identifying characteristics. After 4:30 pm, please leave a detailed message and we will return your call.
To report a DEAD or INJURED OCELOT, JAGUARUNDI, COUGAR, or JAGUAR (or species identification unknown), CALL DISPATCH IMMEDIATELY:
Day 956-784-7520
Night 956-330-5007
Provide important information, including your name and a phone number where you can be reached. Directions to the location and details of the site.
If you find a dead ocelot, please stay with the carcass if you can until FWS arrives. If you are not able to stay, please photograph the carcass and move off the road so that it is not visible to passersby. Be sure to let FWS know exactly where to find the carcass so they can retrieve it and collect important information such as internal tags and genetic information.