Shipping costs to North American addresses included in prices shown. Sorry, but we cannot ship outside of North America due to the extremely high costs of international postage. Sorry – we are all sold out of Pallas's Cat Calendars!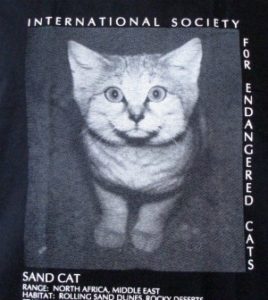 Sand Cat T Shirt
Sand cats are tiny 6 pound wild cats from the harshest deserts of North Africa and the Middle East. This sand cat tee is an ISEC exclusive, and comes with a fact sheet on the species. Black t shirt with white print. 100% pre shrunk cotton. Adult sizes M, L, XL. $25.95 CDN (approx $19.20 US).

High Country Cougar T Shirt
One of the most spectacular cougar shirts we've ever come across. This magnificent cat stalking his territory under the light of the moon is sure to be a hit with mountain lion fans. Dark khaki t shirt. 100% preshrunk cotton. Adult sizes M, L, XL. $25.95 CDN (approx $19.20 US).

———————————————————–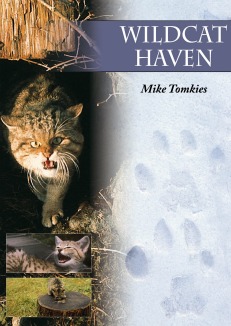 Wildcat Haven
The Scottish wildcat may look like a giant domestic tabby, but it is a formidable and fearless opponent of mankind. The author of this book became the custodian of two spitfire kittens, found abandoned in a ditch when only a few weeks old. The kittens were only seven months old when a spitting and snarling ten-year-old tomcat arrived from London Zoo. Mike resolved to breed a wildcat family and prepare them for a return to the wild.
One man's extraordinary adventures in raising and releasing no fewer than three litters are full of incident, at times hilarious, and deeply moving. $ 33.95 CDN (approx $25.00 US)
ISBN 978-1904445-75-3; 6.5 x 9.5 inches; softback; liberally illustrated; 216 pages

————————————————————
Carnivores of the Pampas
For four years Dr. Mauro Lucherini and his team in Argentina assessed the viability of the pampas grasslands by monitoring the activities of the top predators. Now a publication by Lucherini's group brings the diversity of pampas carnivores to life in two languages. Part field guide, part field journal, it provides a brief factual chapter on each pampas carnivore, from the unusual jaguarundi to the humble hog-nosed skunk, from the puma to the pampas fox. Most of these carnivores have been little studied, and their conservation status is unknown, making the research of Lucherini's group all the more urgently needed. PFact sheets on each species are followed by reports which outline the challenges faced by researchers studying these animals in a human-altered landscape. $23.95 CDN (approx $18.10 US)
ISBN 0-9689278-5-8; 6 x 9 inches; softback; English/Spanish; 126 pages
———————————————–


ISEC Lapel Pin
This clever design incorporates our ISEC initials into a black cat shape. 1 inch pin. Black & gold colors. $5.00 CDN (approx $3.70 US).
All orders ship via first class Canada Post from Calgary, Alberta, Canada