Why Become A Member?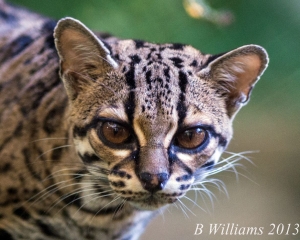 One of the biggest threats to small wild cats is lack of knowledge. People don't know most of the small cats exist or the threats they face. Scientists are just beginning to study many small felines, and their research helps lawmakers understand how to save cats and their habitat.
Our member newsletters bring it all together. Articles and photos of cats around the world introduce people to the small cats. We share the results of field studies in the cats' native countries. Once people have learned about the small cats they want to help, which in turn means more support for field research on small wild cats.
ISEC Canada members live in eleven countries from North & South America to Europe and Australasia . They are the heart of our organization and we treat them accordingly. We do not give, sell, rent or loan our membership information to anyone. We do not send unsolicited emails.
Sign up for our CyberCats membership and receive the only email newsletter about wild cat conservation issues. Members also receive notice of any special  announcements in the cat conservation world. If you prefer to hold your news in your hands, we still offer the option of a paper newsletter, which comes out quarterly.
Won't you join our family of small wild cat experts today?
———————————————————————
CyberCats Membership
Our full color CyberCats email newsletter is sent to members the first day of each month. Our open rate is more than 3 times the average – members love the cats! $26.00 Cdn/year (approx. $19.00 US).
——————————————————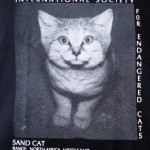 Purr-fect Package Membership
One of our most popular membership levels, you receive the monthly CyberCats newsletter plus our signature Sand Cat T shirt for only $36.00 Cdn(approx. $26.00 US).

——————————————————————–
Lifetime Membership
If you're a REAL cat fan this is the membership level for you. Lifetime members receive the monthly newsletter, 10% discount on products, news bulletins on cat conservation, field research reports directly from biologists, a Sand Cat t shirt and special reports as issued. Never worry about renewing your membership again! $400.00 Cdn (approx. $295.00 US).
——————————————————————–
Snail Mail Membership
We realize not everyone wants to get their information on the computer. Our black & white Cat Times printed newsletter is mailed via Canada Post airmail four times a year. $30.00 Cdn per year (approx. $21.00 US).
——————————————————————-