Why Fund Conservation Field Research?
Field research is the scientific study of a species' natural history. Where are the cats located? What kind of habitat do they use? What do they eat? What are their activity patterns and social organizations?
Without all these answers, it is impossible to design an effective conservation plan. Without knowing how large the population is, or their preferred habitat, suitable protected areas cannot be determined. Information is gathered with the use of radio telemetry equipment, camera traps, box traps, scat and track surveys, and interviews with local people.
Please note: ISEC Canada does not hire any staff for field projects. We support researchers around the world who have initiated their own projects, and hire their own staff.
Small Wild Cat Conservation Research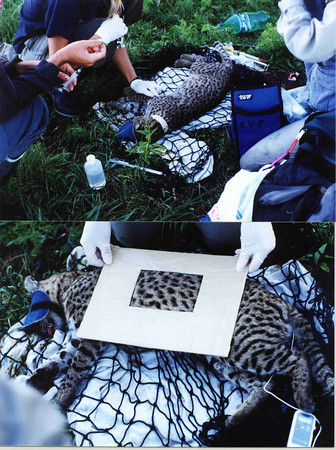 The small cats are extremely difficult to study in the wild, and not just because of their size. Compounded by their shy, elusive nature, most of the cats are nocturnal. Often they live in the densest rainforest, in very thick cover where they leave no tracks. Cats living in the wide ranging deserts pose other problems. One study of the Sand Cat in Israel found that these small cats cover their scat, the fur on the pads of their feet leaves little trace in the sand, and they close their eyes when a light is shone on them before turning around and melting into the dark.
The small tropical cats are currently perceived as having no economic value, and thus are of little value in their native countries. People destroy the cats, either deliberately or through habitat alteration and removal of prey species, because they are seen as being valueless.
For effective wild cat conservation, research must make cat populations more valuable to local residents and government authorities. Field studies identify areas where they may be found, and provide data on their ecology to bring in eco-tourists. Details on the small cats' prey species, usually agricultural pests and disease carriers, help convince rural people that these little cats are valuable allies.
See our

Projects Funded

page for more information on where our money goes.